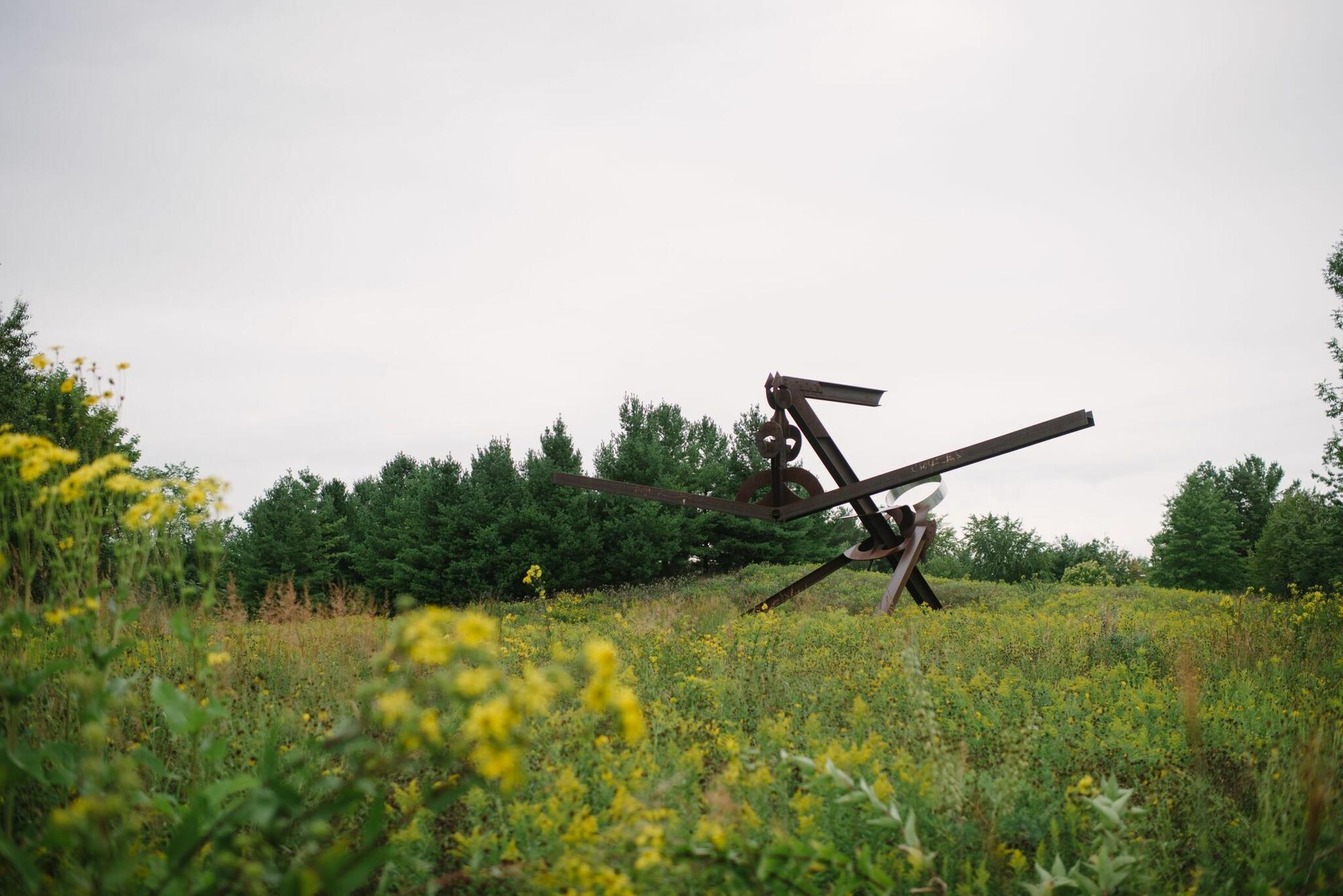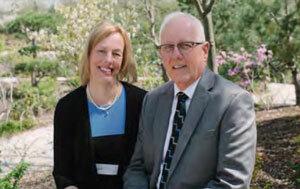 Building Dreams as a Team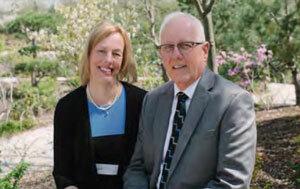 Some things were just meant to be – like Mary Vonk and David Mapes meeting – of all places – at a Meijer store.
Today, Dave and Mary Mapes have been married nearly 30 years, and their relationship with Meijer has grown into a love affair with the Frederik Meijer Gardens & Sculpture Foundation, where their generosity qualifies them for membership in the Perennial Society.
Of course, Meijer Gardens wasn't even a thought three decades ago, when the two met working as managers at the Meijer store on 28th Street and Kalamazoo Avenue SE.
But an appreciation for the Meijer culture – and Mary's love of all things flowers – helped launch for both a keen kinship with blooms. "According to my mother," says Mary, "I was the one who, as a one- year old, picked all the tulips, and I've been fascinated by flowers ever since."
Which you would completely understand if you were to visit where Dave and Mary now make their home, on Elmwood Drive SE in East Grand Rapids, on a parcel brimming with flora of all types.
"At our home, the goal is to be surrounded by flowers," says Mary, and she rattles off a list of what you'll see: "Dogwoods, hellebores, hosta, day lilies, phlox, hydrangea, ferns, roses, boxwoods...."
"But," she cautions with a knowing smile, "flowers are like furniture, in that they can constantly be re-arranged. Like I always tell my plants, don't get too comfortable; you might not be in the same spot tomorrow!"
Though Dave delights in his partner's whimsy, he's more drawn to the sculpture at Meijer Gardens, but hastens to add that the marriage of the gardens and its sculpture "works wonderfully."
David and Mary both work as Realtors® for Coldwell Banker AJS-Schmidt, and it's not uncommon for both to conduct relocation tours for people considering the Grand Rapids area for their new home.
"The first thing we do is show them the area, because the job is not a good fit unless the community works for you," says David, emphasizing that a trip to Meijer Gardens is always part of the showcase.
More often than not, their guests come away with this trio of thoughts: What a clean place Grand Rapids is, what a friendly city it is, and how we have far more to see and do than we should, based on the size of our metro area. Clearly, Meijer Gardens is part of that assessment, and when people choose the Grand Rapids metro area over other areas they're considering, the couple often presents them with a gift membership to the Meijer Gardens.
Both David and Mary couldn't envision their lives without Meijer Gardens as a touchstone – enhancing their relationships with clients, but also serving as a personal balm.
"We've learned there's so much more to life than working," says Dave, "and there's so much to appreciate, whether it's walking around downtown or visiting a park out in the country. And when you come to a place like Meijer Gardens, it's a happy place.
"You don't have to know the names of all the flowers or the names of the artists," he continues. "It's just quieting and gives you an appreciation for life."
Adds Mary: "You can come out here for an afternoon and really feel as though you've gotten away. It's great to be a member and invite some friends or bring kids. With a membership if there's a 2-year-old in the group and they get bored, no problem, just bring them back another day."
For the Mapes, giving to the Foundation feels right because "it's an organization in which we believe strongly." The same goes for Kids' Food Basket, God's Kitchen, Inner City Christian Federation and other non-profits to which they donate both as individuals and in a corporate way.
Mary and Dave already had provided for Meijer Gardens in their estate planning, but after reading about how to specify a gift for the Frederik Meijer Gardens & Sculpture Foundation, they set in motion the process to make sure the Foundation would receive their gift.
"We made one phone call to Sue Veeneman, Executive Director, and she told us what we needed to do." Mary recalls. "After that, it was simply a call to our attorney."
"West Michigan is very strong in philanthropy," says Dave, "and we're very proud to be part of that. We've worked hard for what we have, and we believe in giving back to the community. And for us, Meijer Gardens is a key part of that formula."